Lafarge Canada Inc.
On the road to safety excellence
The John T. Ryan Safety Trophy Awards were initiated in 1941 to encourage and promote safe work in the Canadian mining industry. CIM and MSA Canada Inc., the awards sponsor, work with mines inspection branches and mining safety associations in the provinces and territories to recognize outstanding safety performance. In 1980, Special Award Certificates were introduced for companies demonstrating notable achievements in safe production, though not qualifying for one of the nine national and regional trophies awarded annually.
In 2017 and 2018, Lafarge Canada Inc. GCA (Greater Calgary Area) Pits and Quarries, Alberta Operations worked a total of 457,000 hours with no recordable injuries in the period. While not meeting the threshold for operating hours to qualify for a safety trophy, this achievement was recognized in the form of a Special Award Certificate. Gord Winkel, chair of the John T Ryan Safety Trophies Committee, agreed to present this certificate to Lafarge at one of their upcoming safety events.
Winkel took a road trip to Calgary to join the Lafarge team at their Health and Safety Days Event on June 19, 2019. The event featured an open house barbecue for employees on site with participating safety vendors to support an overall safety theme of see something do something. The local Safety Manager Lauren Nickerson worked with a team from Lafarge to organize this event, and Lafarge GCA Vice President Bob Spence was present with his leadership team.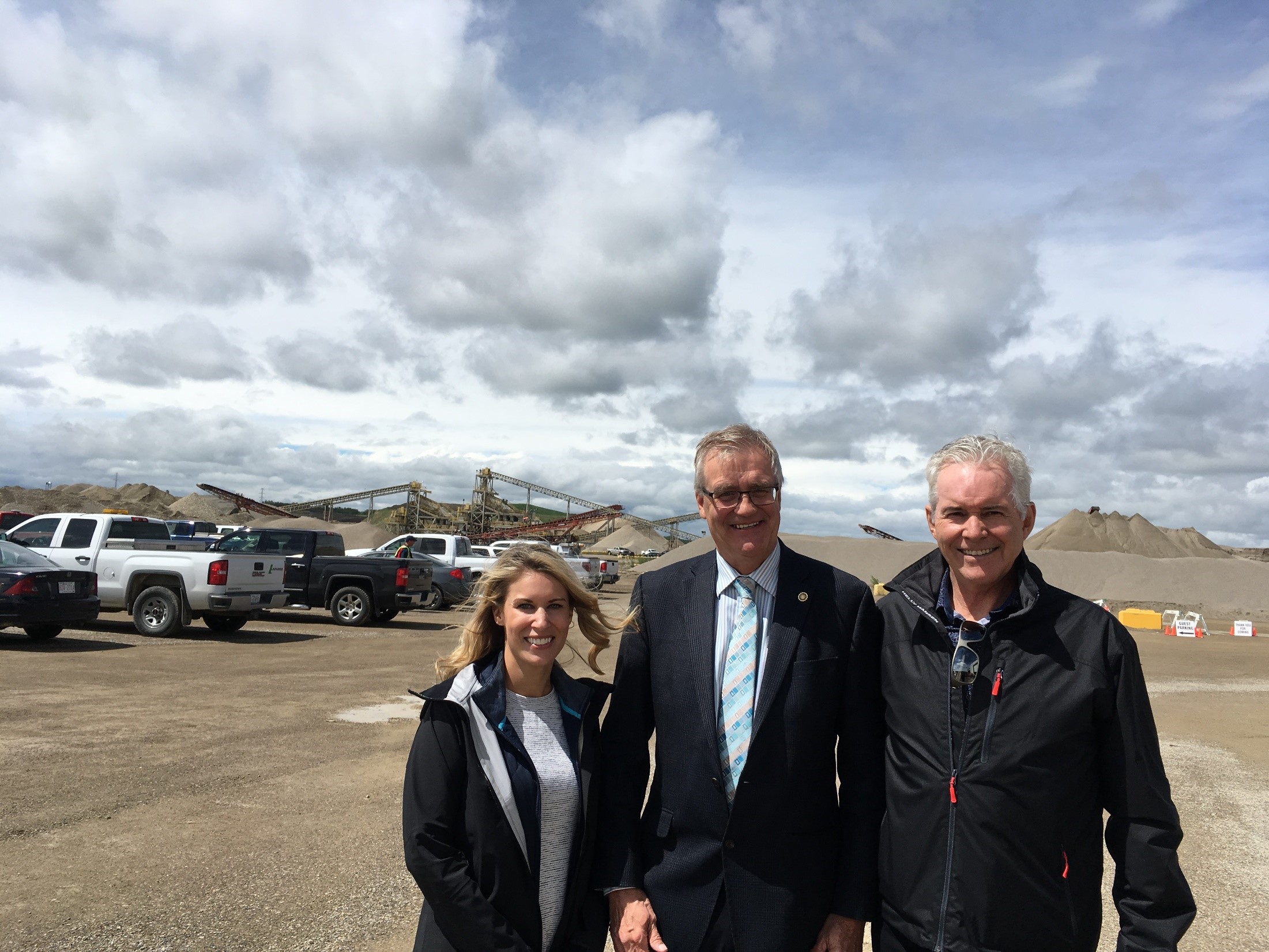 Lafarge GCA hosted a Health and Safety Days event at their site. The event was organized by Safety Manager Lauren Nickerson (left), with presentations from JT Ryan chair Gord Winkel (center) and GCA Vice President Bob Spence (right).
At the opening presentation Spence started with a theme that resonated with the Lafarge team: a heartfelt commitment to having everyone at work returning home in great shape to their families and friends. He recognized the efforts of his management team and their support of safety on many fronts. Bob also expressed his appreciation for the hard work and focus of every individual in attendance to contribute to safety achievement.
Winkel followed with a presentation outlining the history of the award being presented, and a personal reflection on the improvement in mining safety that he has witnessed through the past decades. He expressed his thanks to the Lafarge team for their dedicated efforts at every level to achieve safety excellence–an achievement that adds to the mining industry's track record as a leader in safety.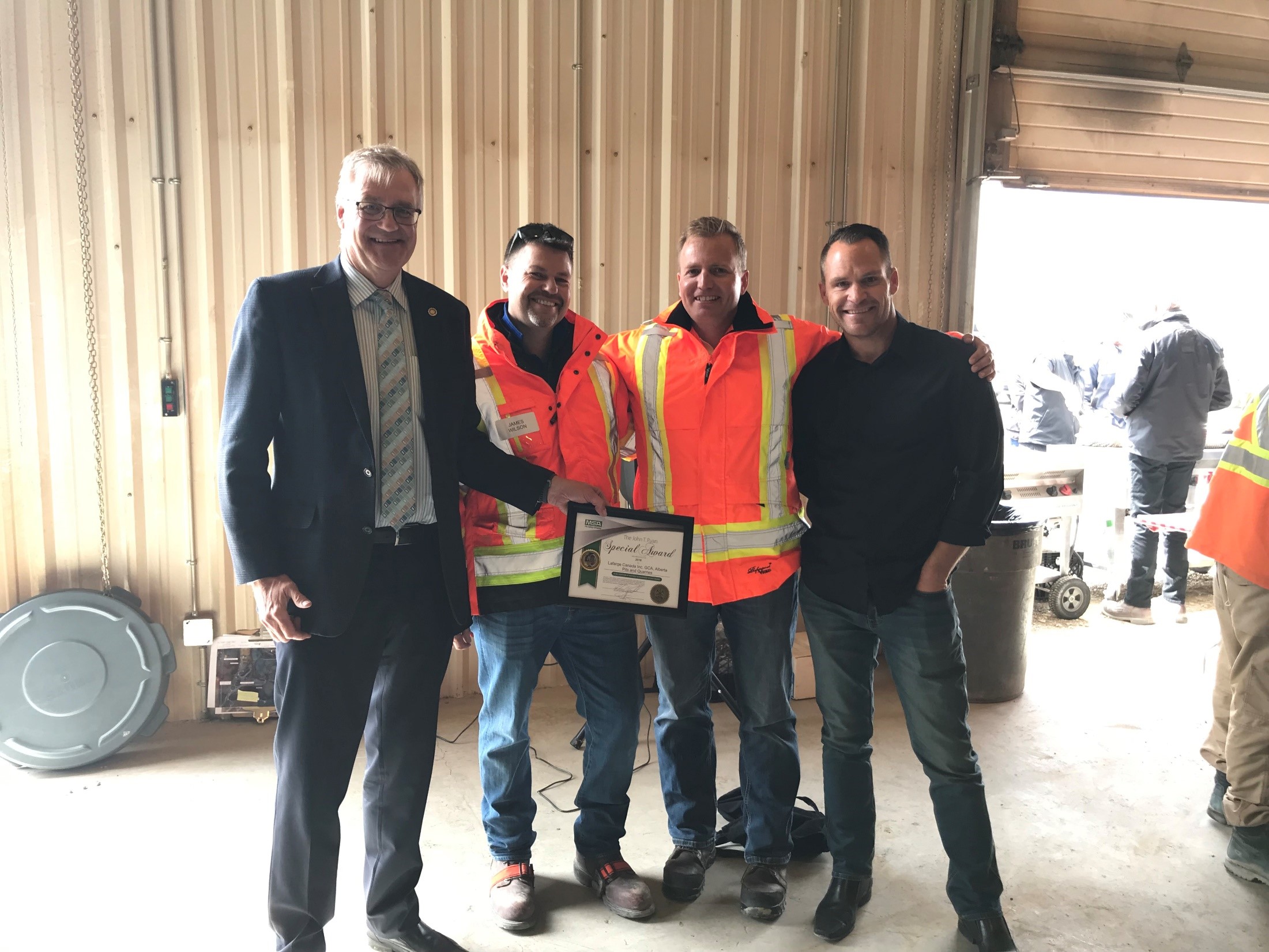 Left to right: JT Ryan chair Gord Winkel presents the Award Certificate to Lafarge General Manager James Wilson, and Managers Travis Biswanger and Wes Markus.
The road to safety excellence is paved by the efforts of organizations with people that have the courage to care, to put safety ahead of any other objective. Congratulations to the Lafarge team.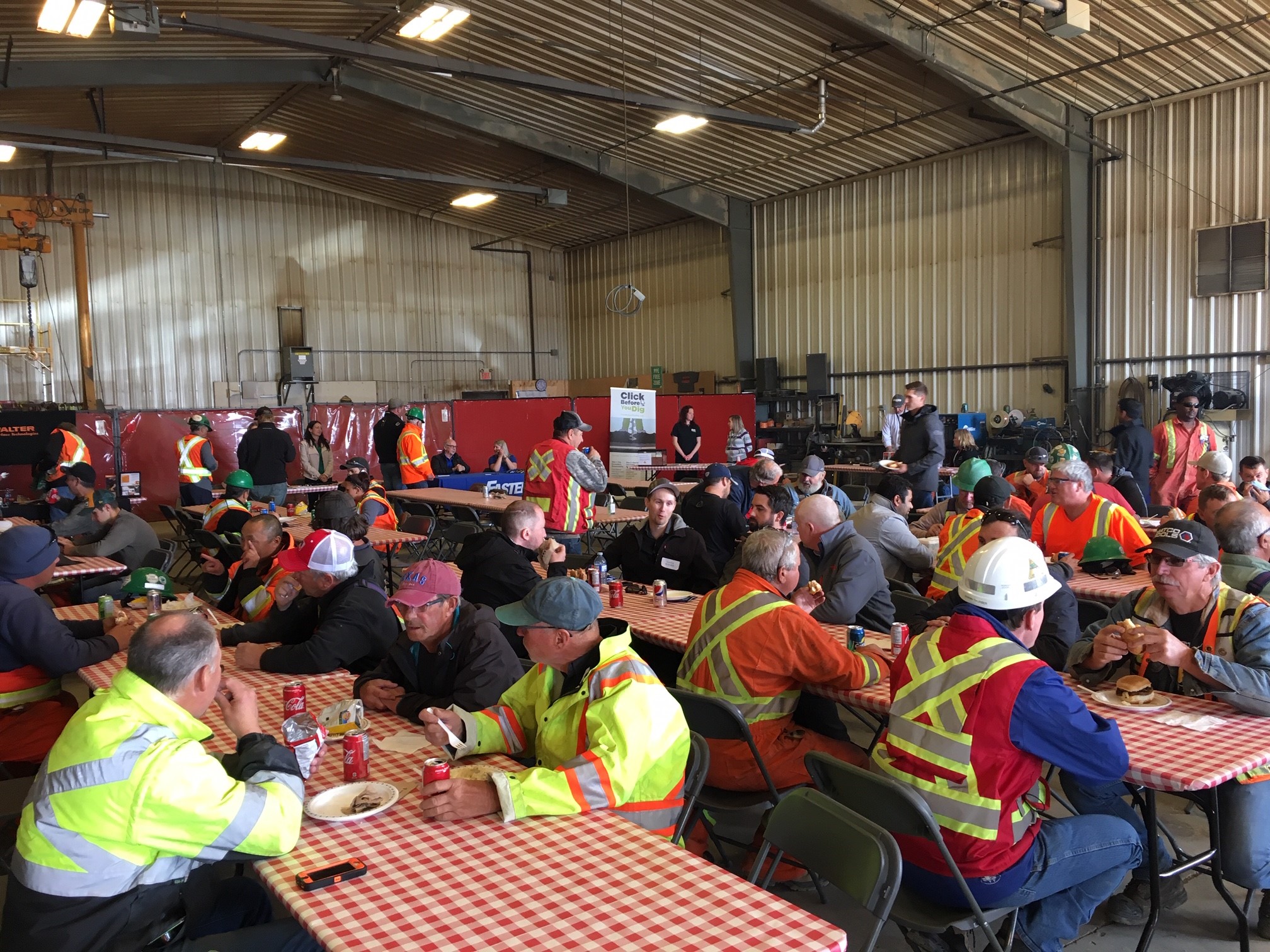 The Lafarge group enjoys the Health and Safety Days barbeque served up by the Lafarge leadership team. The event recognized the efforts of all involved to achieve safe work performance. Supporting the event were vendors Enmax, Alberta One-Call, Walter Surface Technologies and Morneau Shepell promoting safety practices in addition to health and wellness.