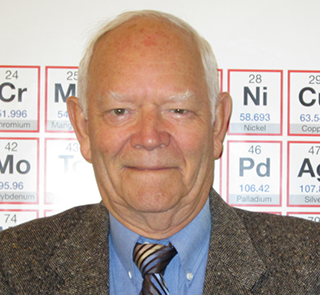 2021
Vale Medal for Meritorious Contributions to Mining
Born in the gold mining town of Bralorne, British Columbia, Professor Davenport was educated at the University of British Columbia and the Royal School of Mines, London.  He taught and did research for a combined 43 years at McGill University and the University of Arizona.  He was Associate Dean (Academic) at McGill and Department Head (Metallurgical Engineering) at the University of Arizona.
During his early years at McGill, he spent his summers working at many of Noranda Mining Company's metallurgical plants. This led quickly to writing the book Extractive Metallurgy of Copper, which has run to five English language editions, with a sixth edition to come in late 2021, plus printings in Chinese, Farsi and Spanish. Other books written by Davenport and his colleagues are Iron Blast Furnace, Flash Smelting, Sulfuric Acid Manufacture, Extractive Metallurgy of Nickel, Cobalt and Platinum Group Metals and Rare Metals, Science, Technology, Production and Use.
In 2014, Davenport was honored by the CIM Conference of Metallurgists with the Bill Davenport Honorary Symposium.