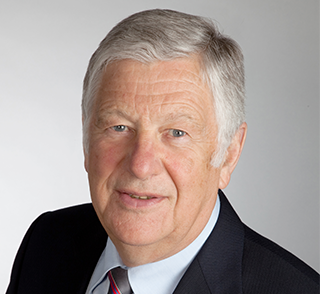 2018
CIM Distinguished Lecturers
Peter Bradshaw has served the mining industry with distinction for more than forty years as a mine-finder, company builder, an advocate of collaborative research and science and by working effectively with local and indigenous people. His early career with renowned Barringer Research gave him a global perspective on mineral exploration and the opportunity to develop and publish details of ground-breaking geochemical processes and exploration methods. In 1979, he joined Placer Development, a predecessor of Placer Dome, and helped advance several successful projects, most notably the discovery of the very high-grade zone VII at Porgera in Papua New Guinea (PNG). Bradshaw was also the driving force behind the formation of the very successful Minerals Deposit Research Unit (MDRU) at the University of British Columbia (UBC).
Among his other achievements Bradshaw brought expertise, integrity and energy to the junior sector, first with Orvana Minerals, which developed the Don Mario gold-silver-copper deposit in Bolivia.  Later, as co-founder and president of First Point Minerals, he helped discover and identify the commercial importance of a new type of nickel deposit in BC and Yukon, in which nickel occurs as the nickel-iron alloy, awaruite.
Bradshaw earned a BSc (Geology) from Carleton University in Ottawa in 1962 and a PhD from Durham University in England (Economic Geology) in 1965.
During his subsequent ten years with Barringer Research Bradshaw helped prove the value of advanced geochemical exploration, in particular the use of selective extractions and soil profile sampling to improve interpretation and enhance the signal from buried deposits. Bradshaw then joined Placer, where the greatest of many accomplishments involved the Porgera project which was about to be abandoned after a failed feasibility study. Convinced of the potential for a high-grade zone in the bulk-tonnage deposit, Bradshaw launched a low-cost exploration program that led to the discovery of Zone VII, a very rich and large "plum".  Porgera became a world-class mine that has produced more than 18 million ounces of gold with potential for significantly more.
The resilience and tenacity shown by Bradshaw at Porgera helped define his career. Still with Placer, at the Misima gold mine also in PNG he worked with the government to adopt a marine tailings disposal system rather than build a tailings dam on the small, rugged and seismically active island. He worked with local leaders to prevent a mass in-migration to the island and the resulting social disruptions, as part of his long-standing commitment to find ways to work effectively and collaboratively with local and indigenous people. In addition he oversaw aspects of the final feasibility study of the Kidston gold mine in Australia, and optioned both Granny Smith in Australia and Omai in Guyana, all of which became significant producers.
Bradshaw's most enduring legacy is MDRU, the highly successful industry-UBC research collaboration which he co-founded in 1989. Today MDRU is recognized internationally as a centre of excellence in mineral deposits research and training, a fitting tribute to its far-sighted and tenacious first chairman, Peter Bradshaw.
Honorary Distinguished Lecturer from the Canadian Mining Hall of Fame 2018-19
Lecture Abstracts
X
Awaruite, A New World Class Nickel Resource with Low Environmental Impact
The Decar Nickel District in British Columbia, Canada, represents a new nickel deposit model. The nickel is present as widely disseminated fine grained awaruite (Ni3Fe) formed during serpentinization of ultramafic rocks.  During serpentinization the nickel in olivine is liberated, and under low sulphur and oxygen fugacity, awaruite forms. This is an isochemical process for nickel which is mobilized over very short distances. This results in widely disseminated awaruite and uniform grades over several hundreds of metres. The formation of awaruite in the Decar District is thought to be generated by meteoric waters and the metamorphic method of formation precluded elevated concentrations of noxious elements such as As, Sb, Se, Hg, Cd, and S. 
Mineral exploration to date has focused on the Baptiste deposit which is now one of the three largest undeveloped nickel resources in the world. Baptiste contains an indicated and inferred resource of 2.03 billion tonnes of 0.124% Davis Tube Recoverable Ni (DTR Ni). This resource base is being expanded by additional drilling. A Preliminary Economic Analysis defined diluted indicated and inferred resources of 925 million tonnes at 0.119% DTR Ni, totalling 1.7 billion pounds in an open pit. There are three additional occurrences present in the Decar District.
Awaruite is both highly magnetic and quite dense (8.2 g/cm3) making it amenable to simple mechanical metallurgical processing, i.e. a coarse crush - magnetic separation - finer crush - gravity concentration to produce a nickel-iron concentrate. 
The tailings from Decar will contain 0-10% modal brucite (Mg(OH)2). Current lab-scale research at the University of British Columbia has demonstrated that brucite will sequester CO2 and in the process may also stabilize the tailings by producing external surficial, and lesser interstitial Mg- carbonates.  Ongoing work is designed to scale up lab tests for a field trial.
Resource Development and Resolution of Conflict with Indigenous People
The attitude of indigenous and local people, and NGOs, to resource development has changed significantly over the last several decades. In response to this there have been a number of initiatives such as the UN Declaration on Indigenous People, the Global Reporting Initiative (GRI), E3+ from the Prospectors and Developers Association, to mention only a few. When faced with a particular situation in the field however it is often not obvious how to apply the various principles set out in these documents. This paper presents a number of case histories of conflict and how it was resolved.  These mainly cover exploration but include decisions made during exploration on operations and mine closure.  Mention is made of the need for the generally ignored compelling need "social chain of custody" as companies and personnel change, especially during exploration and development. Reasons are given to use the term Integrated Social responsibility (ISR) rather than Corporate Social responsibility.
This presentation is interactive. As histories are presented the audience will be asked at various stages, before the conclusion of the history, how they would have recommended acting. There will also be opportunity to discuss how any situation may have been handled better.
The struggle for the Discovery of the Giant Porgera Gold Deposit, Papua New Guinea
Gold was first identified in the Porgera River in 1939 by John Black, a government patrol officer who was making "first contact" with the indigenous people. His diary for March 26th that year records "Down across the Porgera in a rocky chasm, altitude 4,900', blue marl shale. Gold +ve big rough edged flat colours in every dish. Best prospect I have ever seen let alone found." Because of the WW II and remote location hard rock exploration didn't start at Porgera until 1964. Between 1964 and December 1982 six different companies (with Placer as the last) dug tens of thousands of meters of trenches, drilled over 200 holes, dug 3 adits and defined over four million ounces of gold. It was not economic at that time due to remote location, very challenging metallurgy and significant geotechnical and other problems. This paper presents the exploration history and related metallurgical, engineering and social challenges, including the reasons why five companies walked away.  Also why Placer and their partners very seriously contemplated dropping the property three different times for different reasons and how these obstacles were overcome leading to the discovery of the elusive and high grade Zone VII.