CIM Toronto Branch uses corporate sponsorship dollars to foster future miners with a student mine tour
What happens when a CIM branch has a strong corporate sponsorship base? They use those sponsorship funds to foster the next generation of miners. Last spring CIM Toronto Branch put out a general call on social media for local students in earth science-related fields to sign up for a mine tour – the first of many the branch aims to host over the next five years. Under the leadership of CIM Toronto Branch education committee chair, Ben St-Onge, fellow branch execs reached out to potential host sites across the Abitibi to plan a weeklong itinerary. Within two weeks, they had 10 students registered as the branch busily finalized its itinerary, booking accommodations, renting minivans, and sourcing personal protective equipment for all of the students.
DAY 1:
Kurt Breede, CIM Toronto Branch executive vice-chair, and Shilika Mathur, fellow branch executive, along with three geology students, three engineering students and four MBA students set off the afternoon of May 5 for their six-day, 2,000-kilometre trek to the Abitibi gold belt. First stop: Sudbury.
DAY 2:
The first tour destination was the NORCAT Underground Centre near Onaping. Not only did students get to see this unique facility built specifically for developing, testing and demonstrating emerging technology in an operating mine environment, they were able to see firsthand how ingrained safety culture is today in mining. To save some time, Breede suggested he tag in all the students while they started the tour. However, mine site coordinator Carole Charron invoked the cardinal rule at a working mine site, "No one touches your tag!"
Next stop 150 kilometres north was Iamgold's Côté Gold Project, where exploration drilling has commenced. After a tour of the site guided by senior exploration geologist Brad McKinley, it was back to the vans for the three-hour drive to Kirkland Lake.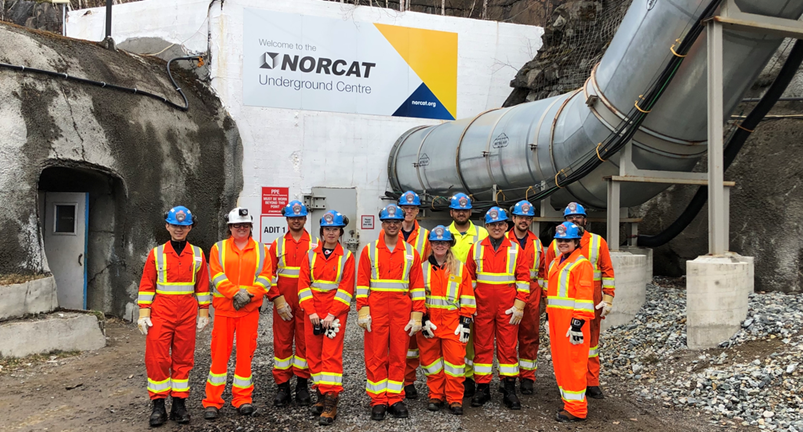 DAY 3:
Kirkland Lake Gold's Macassa Mine, one of the highest grade gold mines in the world, was the first visit of the day. There, James Gagne, Marc Milette and the rest of the production team gave the students an underground tour of the operating mine.
Then on to Agnico Eagle's Upper Beaver Project in Kirkland Lake, where senior project geologists Olivier Grondin and Mark Masson showed them a deposit in the exploration drilling stage.
DAY 4:
An early morning drive north to visit to McEwen Mining Inc.'s Black Fox mine. McEwen's manager of technical services Patrick Lachapelle lead the team to check out stope development.
After lunch, it was back in the vans to Alamos Gold Inc.'s Young Davidson gold mine. Luc Guimond and Garry Bennett gave students a tour of a conventional carbon-in-leach circuit.
After that, the crew headed east across the Quebec border to Rouyn-Noranda.
DAY 5:
Canadian Malartic senior resource development geologist Christian Tessier led the gang on a tour of one of Canada's largest gold mines. The day ended with the long drive to North Bay, the last destination of the tour.
DAY 6:
The team capped off their whirlwind tour at Cementation Americas, where business development manager Gerry Black and shop manager Andre Beaulieu demonstrated for the students Cementation's raise boring technology.
The primary goal of the CIMTO Mine Tour was to expose students to mine sites. Despite their education, many of them had never been to a mine. With this tour, they got to see firsthand exploration projects, underground and open-pit mines, mill and processing operations. Mining engineering master's student Chengquian (Charles) Wu said, "The tour was a good opportunity for us to comprehend how all those models and theories we learned in textbooks are applied in the field, and more importantly, to ponder the role we can play." Ashish Rana, an MBA student who did have some open-pit mining experience, added, "I had never witnessed an underground mine and I was amazed to see the hard work, technical skill and commitment [required] to extract 10 grams of gold from one tonne of rock. It is an experience one has to go through in order to understand the true value of metals around us."
Though the visiting students were interrupting operations at all of the sites, the hosts were incredibly accommodating, said Breede. They unilaterally went out of their way to provide the most informative and eye-opening experience, and all were proactive in helping the students with their careers, with many saying "Here's my card. Connect with me." This open sharing of knowledge and experience exemplifies how mining culture has evolved.
All in all, it was a fantastic week touring with these bright young professionals, said Breede. "Getting to see the various operations through their eyes was an unforgettable experience."
By Michele Beacom