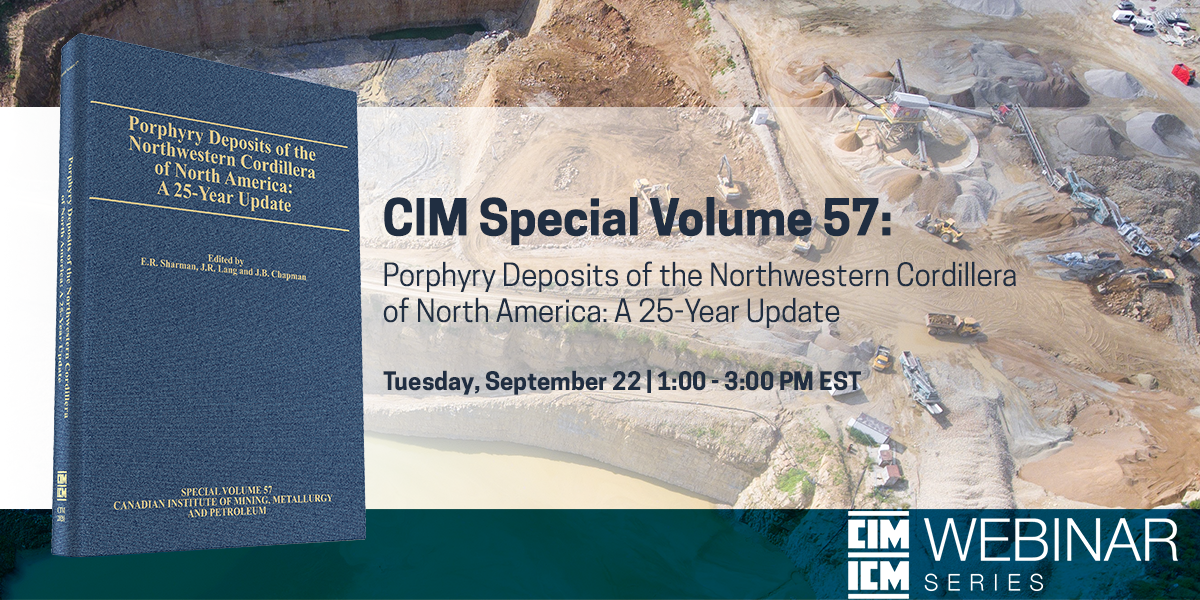 Tuesday, September 22 | 1:00-3:00 PM EDT
Price: Free
Registration link: https://attendee.gotowebinar.com/register/662998223998384141
With the increasing importance of copper in the sustainable future of global society, CIM presents a series of talks and discussion on porphyry deposits, a major source of this green metal in Canada. Topics will include a look back on the last 25 years and potential of the next 25 years of these deposits; a review of porphyry deposits in British Columbia, the Yukon and Alaska; and a summary of the Kerr-Sulphurets-Mitchell camp, one of the most significant porphyry districts defined in recent exploration history. These talks will be of interest to geologists, explorers, miners and any wanting to learn more about this core part of Canada´s mining landscape.
The event also serves as the launch of CIM Special Volume 57: Porphyry Deposits of the Northwestern Cordillera of North America: A 25-Year Update. This publication follows in the footsteps of Special Volumes 15 (1976) and 46 (1995) in providing overview papers on the processes related to the formation of these deposits and detailed descriptions of specific deposits.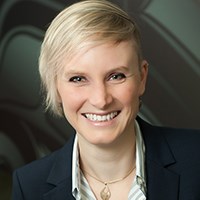 Moderator: Libby Sharman, Principal Global Geoscientist, Metals Exploration – Minerals Americas, BHP
Libby is an exploration geologist with a research background. She completed her PhD at McGill University and has since then gained experience in different facets of the exploration and mining industry including as a geologist, researcher and communications specialist. She has experience on varied deposit types and is currently working for BHP in Chile as their Principal Global Geoscientist for metals exploration. Her eclectic background and personal experiences have fostered an interest in improving the mining industry, and making it a more inclusive and appealing sector in which to work.
Presenters: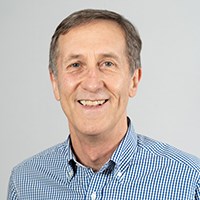 John Thompson, Principal, PetraScience Consultants
Porphyry Deposits in the Northwest Cordillera - The Last 25 Years and the Next 25 Years
The Northwest Cordillera of North America contains several mines exploiting porphyry Cu ± Mo-Au deposits. In addition, there are significant projects at various stages of permitting and a number of porphyry prospects with ore grade intersections. The last 25 years have seen new mines, expansion at others, and reserves and resources reported from emerging projects. With the exception of few periods of low metal prices and the global financial crisis, the Northwest Cordillera has seen continuous exploration activity for porphyry Cu ± Mo-Au targets, especially around major deposits and in areas of high mineral potential. Analysis of recent discoveries indicates that persistence in exploration is critical, given that on average, the first economic intercept on a given project was drilled on hole number 16 by the fifth company involved. Discovery methods remain standard field-based and conceptual geology, conventional geochemistry, and geophysical techniques, the latter becoming increasingly important after 2000.
Research to improve the understanding of porphyry Cu ± Mo-Au deposits has continued globally, including the Northwest Cordillera. New technologies and methods have been developed to support exploration, many with application to porphyry Cu targets. Exploration data are being acquired in real time, and data analytics have become increasingly important as the volume of data rapidly exceeds our ability to deal with it effectively.
Exploration for porphyry Cu ± Mo-Au deposits will likely continue in the next 25 years. The pace of exploration will likely increase, and the impact on the ground will decrease. The ability of the mining and exploration industries to address sustainability issues and to build effective partnerships with First Nations and other communities will strongly influence project development. Future porphyry Cu ± Mo-Au discoveries in the Northwest Cordillera will result from both strong technical and carefully planned social programs.
Biography:
Since 2012, John has run a consulting business based in Vancouver, BC, focused on exploration, mining and sustainability. From 2013-18 he was also the World Professor of Environmental Balance for Human Sustainability at Cornell University.  John has over 35 years working in the mining industry and related research and has had diverse leadership roles in many organizations – Teck Resources, Genome BC, the World Economic Forum, Resources for Future Generations 2018, Society of Economic Geologists, Geoscience BC, Canada Mining Innovation Council, and MDRU-UBC.  He is a director and advisory board member for several exploration, technology, and venture capital companies, and not-for-profit organizations focused on resources and sustainability.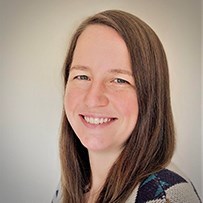 Michelle Campbell, PhD Candidate, Oregon State University
Geology of the Sulphurets (KSM) District Porphyry Au-Cu-Mo deposits
The Kerr-Sulphurets-Mitchell (KSM) porphyry Au-Cu-Mo district, also referred to as the Sulphurets district, hosts some of Canada's largest undeveloped reserves of gold and copper. Located in northwestern British Columbia, the district features four distinct porphyry Au-Cu-Mo deposits owned by Seabridge Gold Inc.: the Kerr, Sulphurets, Mitchell, and Iron Cap deposits. Immediately to the east, Pretium Resources Inc. holds the Snowfield porphyry Au-Cu and Brucejack epithermal Au deposits. Mineralization within each of the porphyry centres is predominantly hypogene and associated with zones of high quartz vein density centered on Early Jurassic calc-alkaline porphyry intrusions. Porphyry intrusions across the district range from diorite to monzodiorite to monzonite in composition, and yield U-Pb zircon ages between 189.9 ± 2.8 Ma and 198.2 ± 2.3 Ma.
The KSM deposits feature hydrothermal alteration assemblages typical of porphyry Au-Cu deposits: deep, central K-feldspar-biotite-magnetite potassic alteration; extensive distal epidote-chlorite-calcite propylitic alteration; extensive shallow sericite-pyrite alteration; and minor advanced argillic alteration at both Kerr and Mitchell. Metal zonations are also observed, most notably in the Mitchell deposit, which features a Cu- and Au-enriched core zone enveloped by a Mo-enriched outer shell. Significant mid-Cretaceous district-scale deformation and lower greenschist facies metamorphism have resulted in widespread chloritization, mica recrystallization, and obstruction of primary textures due to the development of zones of strong foliation. Despite these post-mineral changes, we have shown that handheld short-wave infrared (SWIR) spectroscopy remains an effective tool for mapping lateral and vertical variations in white mica chemistry within the district deposits. Furthermore, due to the substantial post-mineral modification of the district, KSM exemplifies the ubiquitous value and utility of refractory primary minerals in characterizing porphyry magmatic systems. SHRIMP-RG zircon trace element geochemistry provides compelling insights into the oxidation state, temperature, and geochemical evolution of the district's mineralizing intrusions. Combined with whole rock geochemistry and petrography of least-deformed specimens, these data reveal new insights into the magmatic evolution of the KSM district.
Biography:
Michelle Campbell has a BSc (Hons) from McGill University in Earth Sciences and a MSc in Geological Sciences from the University of British Columbia, where her research examined the dynamics of the 2360 BP subplinian eruption of Mount Meager volcano. Michelle is currently a PhD candidate at Oregon State University, working under the supervision of Prof. John Dilles. Her doctoral field area is the Sulphurets porphyry Au-Cu±Mo district of northwestern British Columbia, which includes the Early Jurassic Kerr, Sulphurets, Mitchell, and Iron Cap porphyry Au-Cu±Mo deposits. Michelle's dissertation focuses on the petrological evolution of the district, the geochemistry of refractory accessory minerals, and the complex hydrothermal systems present at each deposit. Part of her research centers on the examination of large datasets of shortwave infrared data for the Sulphurets district deposits, which can be used to effectively model the hydrothermal systems at each deposit, and identify the subtle markings of paleofluid pathways.
In addition to graduate research, Michelle has worked on a number of different mineral exploration projects in Western Australia, Nunavut, Ontario, and British Columbia during the last 12 years. In addition to porphyry Au-Cu±Mo, targeted commodities have included iron ore, mesothermal gold, and diamonds.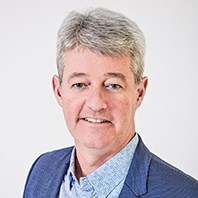 Alan J. Wilson, Managing Director, GeoAqua Consultants
Highlights of CIM Special Volume 57: Porphyry deposits of the northwestern cordillera of North America: A 25-year update
Alan J. Wilson and Thomas Bissig
Special Volume 57, published by the CIM as the third volume in a series of books dedicated to porphyry deposits of the Northwestern Cordillera, is both timely and welcome, given the increased levels of exploration for precious and base metals seen throughout western British Columbia, southwest Yukon and southern Alaska over the past number of years. The book is structured in 2 sections. Section 1 commences with a retrospective on advances in porphyry exploration techniques over the preceding 20 years and offers some insights into what the next two decades may bring explorers of the Northwestern Cordillera and beyond. Informative and detailed reviews of the porphyry-related metallogenic evolution of key belts throughout the Cordillera, possible linkages between porphyry and epithermal deposits in some important districts in British Columbia, greenrock exploration vectors in porphyry deposits and the potential geological significance of platinum group elements that occur commonly in many porphyry deposits in British Columbia are additional topics addressed in Section 1. Section 1 concludes with reviews of recent technological developments in the fields of geometallurgy, and tailings management as relevant to porphyry copper ores. The papers in section 1 provide a solid framework for the descriptions of individual porphyry deposits that comprise Section 2.
This volume delivers high quality geological and geochronological data on dozens of porphyry deposits throughout the Northwestern Cordillera, some of which are herein documented formally for the first time (e.g., Kwanika, Ike and Gnat Pass, all in British Columbia) whilst other papers are detailed geological updates. A common theme through many papers is the impact that post-mineral faulting, particularly the Cretaceous Skeena fold and thrust belt in northwestern British Columbia, has had on the present-day configuration of porphyry systems. This is well demonstrated in the Early Jurassic KSM – Snowfield – Iron Cap porphyry Au-Cu district, where a complex series of low angle reverse faults has dismembered and tilted one or more deposits into at least five discrete blocks, each one of which has the potential to become its own orebody. The role that post-mineral faulting has played in deposit presentation is also evident at the high-grade Pebble East deposit, the recently discovered Saddle North deposit and in the blind, leached and partially supergene enriched Kwanika deposit.
High precision U-Pb and Re-Os geochronology is now used almost routinely by researchers and explorers alike, and data presented in this volume has permitted authors to propose updated tectonic and metallogenic models that will enhance the chances of continued exploration success in the region. In addition to also applying this data to improve the understanding of structurally complex segments of the Cordillera, the powerful combination of radiometric dating with whole rock and trace element geochemical data from intrusive complexes potentially related to undiscovered porphyry deposits enhances the knowledge of processes that drove arc evolution, potentially allowing explorers to reduce their search spaces.
Finally, porphyry deposits are well known for being associated with zoned patterns of hydrothermal alteration that facilitate vectoring and target identification during exploration. Many deposit descriptions in Section 2 report the use of relatively recent hyperspectral (SWIR) scanning tools to improve mineral identification in the field, thus facilitating "real time" exploration vectoring during mapping and exploration drilling. Careful appreciation of overprinting alteration events is also highlighted as a critical requirement during the development of a deposit-specific alteration model.
Biography:
Experienced economic geologist with significant track record in exploration for and evaluation of base and precious metal prospects and deposits globally. Alan has near three decades of exploration experience for base and precious metals throughout South and North America, Central and Southern Africa, Australasia and Europe with a demonstrated focus on practical field geology and due diligence for all stages of resource projects. Prior to establishing his own geological consulting practice, Alan was the International Exploration Manager for Antofagasta plc (2010 to 2019) where he was responsible for the development and execution of Antofagasta's global exploration program outside of Chile, including technical evaluation of opportunities, negotiation of commercial agreements, and ensuring safe and cost-effective evaluation of exploration targets. From 2006 to 2010, Alan was the Copper Commodity Leader for Anglo American, where he was tasked with ensuring technical excellence at all copper exploration projects globally and with oversight on copper exploration R&D projects and new initiatives. 
Alan has a PhD in Economic Geology from the University of Tasmania, a MSc in Exploration and Mining Geology from the University of Leicester and BSc (1st Class Honours) in Geology from the University of Edinburgh.