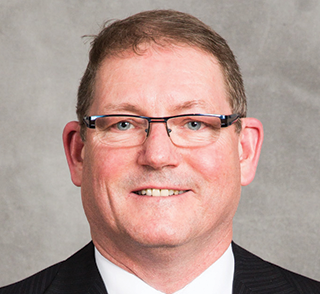 2021
CIM Fellowship
2015
CIM Distinguished Service Medal
2015
District Distinguished Service Award
As a graduate of UBC Mining and Mineral Processing in 1984, Tom Broddy started his career with Teck at its Bullmoose operation in the North East coalfields of British Columbia. He spent 16 years in Tumbler Ridge developing his operational and engineering skills and was Superintendent of Engineering at Quintette Coal Limited when he left for a new career in Port Terminal management on the Vancouver waterfront in 2000. He came back to mining in 2006 when he joined Taseko Mines Ltd. He retired in 2018 and is spending much of his time golfing, skiing and volunteering.
Broddy has been a member of CIM since his student days at UBC. He served as Chairman of the Tumbler Ridge and Vancouver Branches and as District Vice President for the British Columbia and Yukon Division of CIM. He was the Chairman of both the Surface Mining Society and the 2016 CIM AGM in Vancouver.
Along with his passion for CIM, Broddy has devoted much of his volunteer time developing young students in the mining industry. He was a ten-year member of the UBC Industry Advisory committee and currently sits as Chairman of the BCIT Mining Department Professional Advisory Committee (PAC). Particularly rewarding at BCIT, the PAC participated in developing and launching the first Mining Resource Engineering program, a first for Canada and achieved at the low end of the commodity cycle when many mining departments were either shutting down or being reassigned. He also sits as a trustee for the H.A. Steane scholarship, the Mineral Resource Education Program of BC, the CIMF and as a committee member for the CIM Awards selection group.