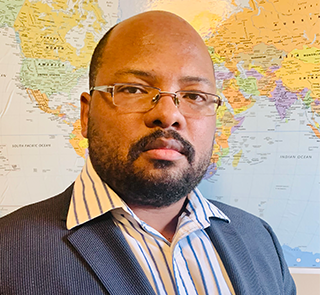 2021
CIM Presidents' Role Model Medal
Tim Mbanga has a bachelor's degree in chemical & metallurgical engineering and over ten years of experience in mineral processing. He is currently the chief metallurgist at Nutrien, Rocanville division; prior to that he worked at several mines in Ontario, British Columbia and Africa. His experience includes base metals, precious metals, precious stones and industrial minerals. 
Mbanga is an active member of CIM and Co-chair & Past Technical Chair of CMP MB/SK Branch, author of Canadian Milling Practice (Nutrien Potash) and was recently appointed as part of MICA (Mining Innovation Commercialization Accelerator)- Industry Consultation Group. 
He enjoys collaborating with young engineers and high school students who are potential engineers of the future. He helps engineers from outside the country to register with engineering regulatory bodies in their jurisdictions and also mentors new engineering trainees. He volunteers with the APEGS K-12 program, experience review and mentorship programs. He also volunteers as a judge for the Regina high schools science fair, career fair and the Canadian Mineral Processors students' poster and mentorship programs.