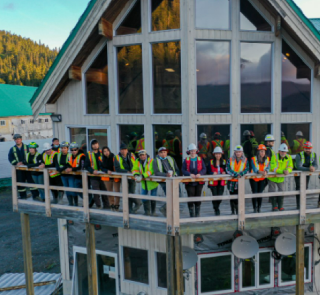 2022
Excellence in Sustainable Development Award
Skeena Resources Limited is a Canadian mining exploration company focused on revitalizing the past-producing Eskay Creek Mine in Tahltan Territory within the Golden Triangle of northwest British Columbia, Canada.
Skeena is working towards realizing the value of Eskay Creek in such a way that they have a net positive impact economically, socially, and environmentally by stimulating local businesses, furthering reconciliation with First Nations, and encouraging low-carbon industries within their supply chain. The Company's Eskay Creek Revitalization Project will be the first example of a First Nations consent process with their Tahltan partners under British Columbia's Declaration on the Rights of Indigenous Peoples Act.
Skeena's highlights from 2021 include the creation of the Tenh Dẕetle Conservancy which preserves 3,526 hectares of land in Tahltan Territory, the investment of C$122 million from the Company into the British Columbia economy, and the completion of a socioeconomic baseline study of the Tahltan Territory.