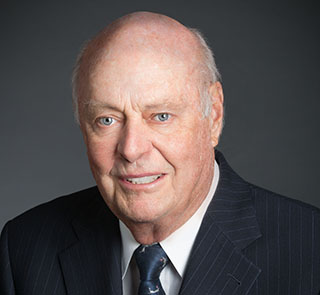 2018
CIM Fellowship
1999
Vale Medal for Meritorious Contributions to Mining
1990
Selwyn Blaylock Canadian Mining Excellence Award
1985
Vale Medal for Meritorious Contributions to Mining
(Biography from 1999) Norman B. Keevil received his B.Sc. in engineering from the University of Toronto in 1959 and PhD from the University of California (Berkeley) in 1964. He joined Teck Corporation as vice president of exploration in 1963 and became president and CEO in 1981 and chairman in 2000.
In 2001 he became non-executive chairman of the merged Teck Cominco Limited, now Teck Resources Limited, and continues in that role.
Dr. Keevil has received numerous awards over his career, including The Northern Miner's Mining Man of the Year in 1979, CIM's Inco Medal in 1999, an honorary doctorate from the University of British Columbia in 1993, and the T. Patrick Boyle Founders Award from the Fraser Institute in 2010. In 2004 he was inducted into the Canadian Mining Hall of Fame, and in 2012 into the Canadian Business Hall of Fame. He was awarded the Order of British Columbia in 2012 and made an Officer of the Order of Canada in 2014.
In 2017 McGill Queens University Press published his book, Never Rest on Your Ores; Building a Mining Company, One Stone at a Time, as part of its Footprints Series. It tells the story of how a Kirkland Lake gold mining prospect discovered in 1912 evolved through the ups and downs of the Canadian industry into a $20 billion mining icon, and of the many people who played a role in making that happen.