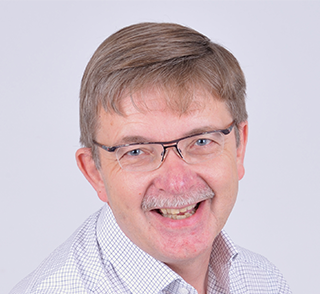 2017
Barlow Medal for Best Geological Paper
In recognition for the excellent article titled: Principles of using microdiamonds for resource estimation: 1—The impact of mantle and kimberlite processes 
Malcolm Thurston holds a BSc degree in mining geology, a Diplôme d'Etudes Approndies (option geostatistics) and a PhD in geostatistics. He has more than 30 years of experience in the minerals industry with in-depth knowledge of mineral resource estimation in gold, base metals and diamonds.
Thurston has worked as a mineral resource consultant outside of De Beers, gaining specialized experience in third-party auditing. He has work experience in the UK, South Africa, US and Canada and has travelled to kimberlites around the world including Southern Africa, Middle Africa, Canada and Russia. 
Thurston is the group lead for mineral resource management for the De Beers Group of Companies and provides guidance and leadership in all aspects of mineral resource estimation.
Co-author
Johann Stiefenhofer holds a BSc in Geology and Chemistry, a PhD in Geology, as well as an MSc (Eng.) in mining engineering with a focus on geostatistics. He has been employed at the Anglo American/De Beers Group for the past 23 years. Stiefenhofer's areas of expertise include kimberlite geology, mantle petrology, geochemistry, volcanology, resource classification and resource estimation including micro-diamond estimation techniques.
Until recently, Stiefenhofer held the position of principal geoscientist at the Global Mining Division, De Beers Group Services, where he was responsible for project assurance and review input for both the geology and resource estimation disciplines in De Beers worldwide. He transferred to the Anglo Corporate Division of Anglo Operations Pty (Ltd) on April 1, 2017, in the position of Principal MRM – De Beers, in Johannesburg, South Africa.
Stiefenhofer is a member of SACNASP, the Geostatistical Society of South Africa and a fellow of the Geological Society of South Africa.
Other co-authors: David Rose, Ingrid Chinn, Johan Ferreira