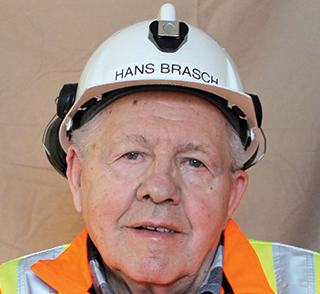 2017
CIM Community Service Award
Hans Brasch started working at Levack Mine in 1952 at the age of 20 years. He worked for 40 years straight without a day off at various positions. When he retired in 1992, he was able take this knowledge with him, move into the future and continue to learn about new technology and challenges in mining.
With this ongoing dedication to the mining industry, Brasch has been able to act as a liaison between mining companies and the community by lobbying for equipment for display at various venues in the Sudbury area.
He created heritage shows and promoted mining in videos featured both in Canada and Europe, and best of all, documented mining culture from past to present in nine books. In doing so, Brasch helped secure a future in the minds of our youth for the industry.