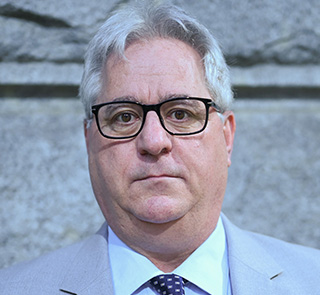 2022
Julian Boldy Geological Society Service Award
Chris Collins is retiring as chief mining advisor at the British Columbia Securities Commission (BCSC)  in May. He has been in this role since 2014, leading a team focused on NI 43-101 and the Canadian mining securities disclosure regime. 
Prior to the BCSC, he held executive roles in Toronto based junior exploration companies, Apogee Silver Ltd. and Gold Eagle Mines Ltd. There he led teams with projects in Bolivia, Chile and Red Lake, Ontario, respectively. Before this he was director of ALS Laboratories Group Eastern Canada operations. 
Collins started his career over 35 years ago with Noranda Exploration in Newfoundland before moving to the Brunswick #12 Mine in Bathurst, New Brunswick. While with Noranda in Bathurst he also led exploration projects in Brazil, Norway, and Chile. He holds a Bachelor of Science Degree in Geology from Memorial University of Newfoundland, and a Master of Business Administration from Saint Mary's University in Nova Scotia. He is a professional geoscientist registered in both British Columbia and Newfoundland and Labrador.