Katary is one of the 2019 CIM-Bedford Canadian Young Mining Leaders Award winners
Shannon Katary is a storyteller, and she puts those skills to use by shedding light on deep mining practices in her role as Director of Marketing and Communications for Maestro Digital Mine.
"When I started working in the industry I learned that mining is far more dynamic than its image," said Katary. "The mining industry doesn't always know how to talk about itself. You do your job, you make sure your people are well taken care of, and then you do it again. But you don't always talk about the value of what you do."
After graduating from the University of Toronto with a BA in International Relations and Political Science, Katary got her start in the mining industry by working for the Centre for Excellence in Mining Innovation (CEMI).
"CEMI needed people who could take technical information and write it in a way that allowed others to see the value proposition of the work and to see themselves in it," explained Katary.
She has been a member of CIM and has attended the annual CIM Convention since she joined the industry. The 2019 Convention in Montréal was her busiest yet. At the CIM-Caterpillar Awards Gala on the evening of April 29th, Katary was awarded the CIM-Bedford Canadian Young Mining Leaders Award.
Katary described the awards gala as electric.
"They called my name and it felt like the room erupted with a roar like when a goal is scored in a hockey game. I felt that kind of energy from my colleagues that night. I hope everyone gets to experience that at some point in their career.
"When work is hard, moments like those help propel you to keep working," she said. "And of course, I took a selfie with Ben Mulroney!"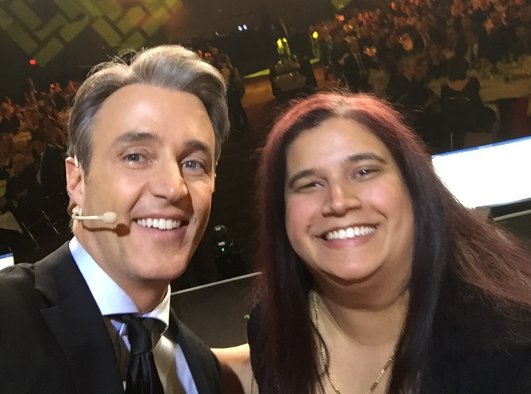 During the 2019 Convention, Katary helped her team at Maestro Digital Mine launch a new product.
"You can have [product] launches and make these announcements on your own, but it makes a bigger impact when you do it in association with organizations that are designed to bring people together," she said. "I might be effective at telling a good story but you need to find the right place to tell it where it will have an impact and ripple."
Katary has made waves in the mining industry and she believes we all have that ability: "Mining is a small community so everyone has the opportunity to affect the industry."
By Elle Crosby