Winners
2023
Rio Tinto, Diavik Mine—Community Engagement
Turning Copper into 'Gold'  
Several years ago, employees at the Diavik Diamond Mine recognized an opportunity to repurpose copper wire from predominantly completed underground mining levels. A core group of passionate employees took the initiative to propose to Diavik to salvage copper wire where possible, and collect it in containers for transport off-site to donate to community groups. Diavik endorsed this idea and included this activity as part of scheduled work, so those who volunteered were paid for their time. This project worked to a small extent but grew substantially when, in 2019, Diane Haché, a retired employee, and her partner Michel Tremblay, a current employee, led the volunteer efforts to maximize the mine's recycling efforts, through stripping and shipping of the salvaged copper for sale, with all proceeds going towards Diavik's Community Contribution Program. Since the project's inception, the results have been significant, raising over $500,000 for local charities.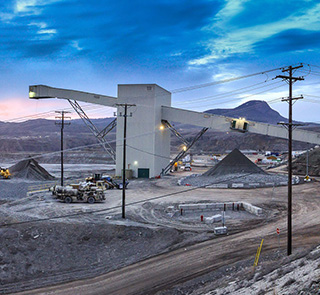 2023
New Gold Inc, New Afton Mine—Environmental Excellence
In March 2014 New Gold Inc's. New Afton Mine became the first mine in North America to be certified to the ISO 50001 Energy Management System (EnMS) Standard.  Since then, New Afton has realized annualized energy savings equivalent to 15% of the total 2021 energy consumption.  ISO 50001 has also supported compliance with the Mining Association of Canada's Towards Sustainable Mining Energy and GHG (Greenhouse Gases) Management protocol. 
ISO 50001 helps build energy and GHG management into the business systems of the company, so it becomes what everyone does on a day-to-day basis.  It helps engage employees in energy and GHG management and it's the employees who drive energy and GHG performance improvement at New Afton through their creative and innovative suggestions. 
New Afton has received numerous awards in recognition of their energy management systems and initiatives, including the prestigious Clean Energy Ministerial (CEM) Energy Management Award of Excellence.