Winners
2019
CIM Porcupine Branch
The CIM Porcupine Branch is a not-for-profit organization that actively engages the local community by educating the public on the role mining has in our society, facilitating the development of mining professionals, fostering the exchange of mining knowledge within the community, all while recognizing greatness in those among us. In these missions, we strive for excellence and quality as we give back to the local community, and in doing so, becoming the premier mining professional society.
Pictured: Andrew Smith, branch chair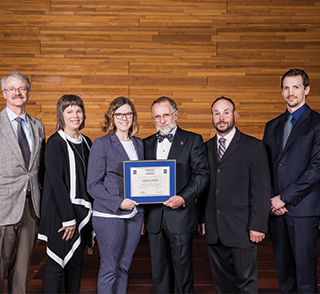 2018
CIM Saskatoon
Much has happened since the CIM Saskatoon Branch was established in 1965. The potash, uranium, and oil & gas sectors have seen tremendous activity and market ups and downs but continue to make their mark on the world stage. The Branch has over 800 followers and continues to focus on growth and development of its membership and programs. The Branch features excellent technical and social programs that focus on networking and attracting students. CIM Saskatoon's vision is for members to gain global leadership skills and expertise through technical knowledge exchange and community involvement. Its mission is to support the technical networks and communities that its members call home.