Winners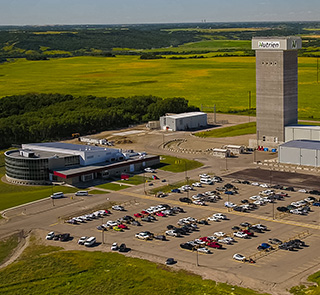 2023
Nutrien, Rocanville mine
Nutrien's Rocanville mine was commissioned in 1970 and has gone through several expansions and improvements to become one of the largest potash mines in the world.  The expansive underground workings, surface mills, loading facilities, maintenance shops and other supporting personnel, create an employment opportunity for 900 people from the surrounding area.   
Ore is cut using four-rotor mining machines utilizing a three-pass room-and-pillar method.  Conveyors haul ore to skip-loading pockets where it is hoisted to surface through two dedicated shafts.  The ore is processed on surface into finished products and shipped by rail and truck.   
Workplace safety at the Rocanville mine is ever evolving and always striving to improve.  The consistent foundation of safety success is through employee engagement and ownership.  This is most evident in our employee driven process called STAR (Safety Together at Rocanville), where workers observe one another and provide the feedback necessary for continued safe work.

2022
Bethune Mine (formerly the Legacy Project), K+S Potash Canada
K+S Potash Canada (KSPC), a subsidiary of German giant K+S Group, recently completed implementation of its $4.1B Bethune Mine (formerly the Legacy Project) in Saskatchewan, Canada. It is the first greenfield potash mine built in the province in more than 40 years.
As KSPC's design and project management partner, Wood led an integrated execution team tasked with delivering all aspects of engineering, procurement, construction and commissioning for the solution mine and processing facility.
The work included the management of complex third party design-supply technology packages for key components of the plant where three different types of potash are produced. Total planned production is roughly 2.9 million tonnes per annum.
Over 23,000,000 man-hours were put into the project, with a site workforce that peaked above 3,000 people daily.  Wood and KSPC worked in partnership on health, safety, security and environmental aspects of the project as it evolved from a pure greenfield site to a fully operational production facility. As a result, the project team achieved over 11 million hours without a lost-time injury.
On June 11, 2017, just under five years after the groundbreaking ceremony, the Bethune mine produced its first tonne of marketable potash.