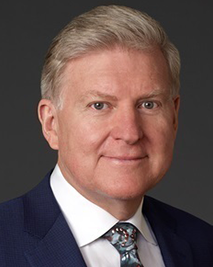 With more than 35 years of experience as a leader and innovator within the mining industry, Ian Pearce has a deep understanding of the challenges faced by the mining sector. He has held senior engineering and project management roles at Fluor Inc. and executive roles at Falconbridge Limited and Xstrata Nickel. He currently serves as Chair of the Board of MineSense Technologies Ltd., Chair of the Board of Directors at New Gold Inc., and Non-Executive Director at Metso Outotec, Northland Power Inc and NextSource Materials Inc. He is a Senior Advisor at KoBold Metals and Electrasteel.
His interests go well beyond the mining industry. He is an active supporter of several non-profit organizations, including the Canadian Cancer Society, Engineers Without Borders Canada, the Trans Canada Trail, the Canadian Museum of Nature and Eva's Initiative in Toronto.
His unique perspective and experience will strengthen the work CIM does to connect and support the entire mining community.